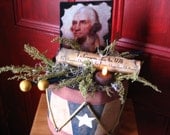 Americana Drum is reminiscent of Civil War era. Drum is made using muslin that has been stained and painted and has been firmly stuffed with polyfil. Painted markings in blue and prim stain. Each blue section has an antiqued white painted star in center. Gold cord wraps around drum highlighting each section of the drum and is affixed with antiqued metal brads.
The top of the drum features wooden drum sticks painted blue and gold, an antiqued parchment Declaration of The Congress dated July 4, 1776, antiqued mounted aged parchment print of George Washington and a grungy flickering tea light.
Spanish moss and sweet scented Sweet Annie complete the ensemble.
Piece measures 13 1/2" high x 16" at its widest point.
(Pattern designed by Ginger and Co.)
Click Here to Visit My Etsy Shop!