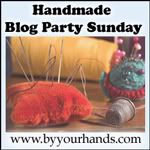 A blog party that is!!! Click on the photo above and see all the wonderful handmade items for sale. Hey, while you're there, you can add 3 of your own!!! Just a few simple rules:
The rules are simple:
1. Follow their blog
2. Handmade items only.
3. You may list up to 3 items.
4. Family friendly items only.
Loads of fun!!! Join the blog party today!