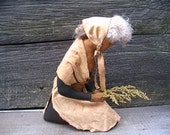 Peaceful pilgrim lady kneeling to give thanks to her God for the harvest. She will add serenity and beauty to your home and will be a constant reminder of what we need to do each and every day!
Doll is 9" tall and is made from muslin that has been dyed with a primitive mixture of coffee and cinnamon. Her "dress" is painted using black acrylic paint. Her hair is 100% sheep's wool that...
Click Here to Visit My Etsy Shop!